Welcome
To the Commonwealth Fencing Federation website
Vale Bob Turner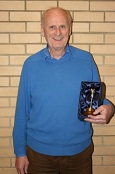 There have been many tributes to Bob Turner, a much respected friend and colleague of many in the world of fencing. He was a real gentleman with a great sense of fun, always fair and genuine.
Bob was a great supporter of Fencing across the Commonwealth and was one of the stalwarts of British and Welsh Fencing. At the time of his death, he was Chairman of Welsh Fencing, Chairman of Whitchurch Fencing Club and since 2009, President of the Commonwealth Veterans' Fencing Association. Bob was a source of inspiration and encouragement to so many and will be sorely missed.
Bob Turner 1941 - 2013
Fencing was included in the Commonwealth Games from 1950 (when the event was still known as the British Empire Games) through to 1970.
Since that time, as a Commonwealth Games Federation Recognised Sport, Commonwealth Fencing Open Championships have been held every four years, in the same year as the Commonwealth Games.
In addition, Commonwealth Fencing Junior Championships are held every three years, and Commonwealth Fencing Veteran Championships every two years.
All of these events are overseen by the Commonwealth Fencing Federation.